NextLogic Pte Ltd - School Management System & Student Management Software
NextLogic's top priority are customers and their business needs. We live and breathe customers. The output of our work is always dependent on the relationship we develop with our client and delivery of promises made. However, it is a both ways responsibility. Our customers are our partners and we are also very demanding of them when it comes to time spent on working with us on automating the business processes successfully.
CLIENTS' TESTIMONIALS: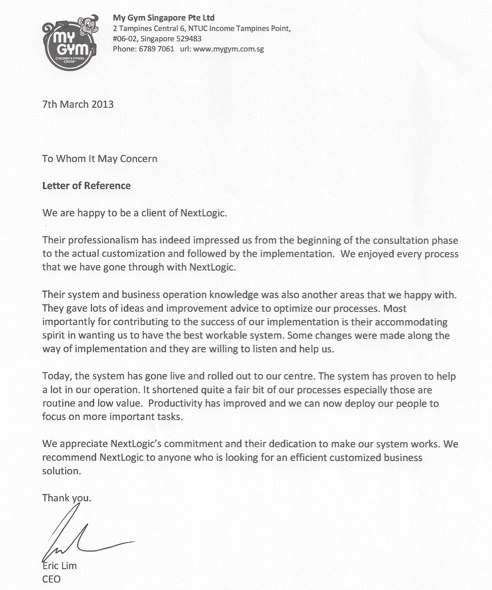 Eric Lim, CEO, My Gym Singapore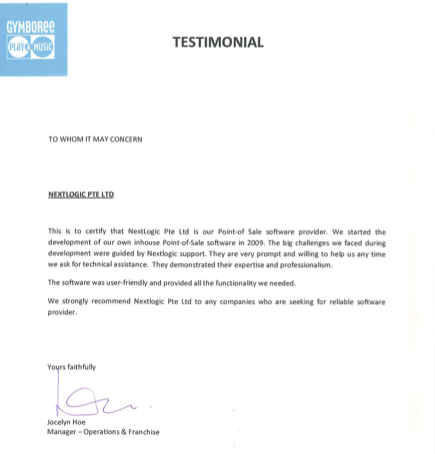 Jocelyn Hoe, Operations Manager, Gymboree Singapore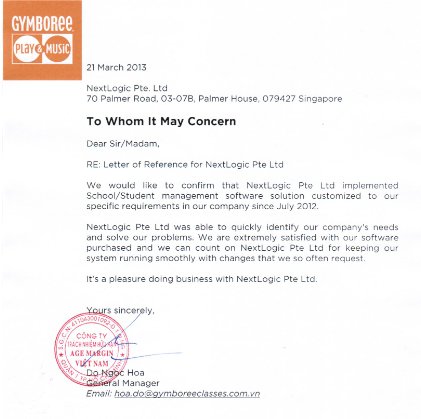 General Manager of Gymboree Vietnam
"What sets NextLogic apart from other IT vendors is their flexibility, patience and understanding where we are coming from. They were able to perfectly understand our complex business process and demonstrated their abilities in both technology and business aspect of business automation. Through the process of ERP implementation in our business we have learned tremendously a lot about our own business and realized mistakes we did not even see before. Our business is now more transparent and so much easier to manage. NextLogic also provided us with the Source Code to our application, which makes the whole 'transaction' much less risky and stress free for the future. We appreciate their continuos service and would confidently recommend them to any business owner."
Mr. Goh, Lee Hoe Transport Pte Ltd, Singapore

"We appreciate NextLogic for what they have done for us. They have managed to build a system that is useful and has helped us tremendously to save our processing time and our cost. We have increased productivity, eliminated mistakes and enhanced control over our operations and expenses, which was a challenge before.
We recommend NextLogic with greatest pleasure to anyone who is looking for efficient customized business software application provider."
Mr. Richard Khoo, Teleo Pte Ltd, Singapore

"The software done was excellent and exceeded our initial expectations. We appreciate NextLogic's professionalism and willingness to go extra mile for client. We will continue to work with NextLogic to further develop our software. I highly recommend NextLogic with absolute confidence."
Ms. Lynette Tan, Operations Manager, Taurus Wealth Advisors Pte Ltd, Singapore

"We are fully satisfied with NextLogic's work. They always deliver what we wish for. NextLogic has been out partner for years and now we know it was a great choice."
Mr. Leonard Liew, CEO, Gateway Avenue Sdn Bhd, Malaysia

"Project 180 (Youth Services) enjoyed a good working relationship with Nextlogic. Dasha and Peter's experiences working with Voluntary Welfare Organizations meant that they understood the requirements as well as contraints in our project. They went the extra mile in helping us when complications arise. We are also very appreciate with Nextlogic's generosity in the implementation of value-added functions during the process."
Ms. Joyz Tan Dunlin, Senior Social Worker (Project Manager), Singapore