StudentLogic School Management System for Enrichment Centers, Tuition Centers and Pre-schools
StudentLogic is a cost-efficient, user-friendly and complete business suite specially designed for pre-schools and enrichment centres.
It allows school to efficiently and effectively manage all key resources within organization including contacts management (parents/students/children), services management (definition of classes, packages, timetables), daily workflow management including Registrations, Sales and Attendance Tracking as well as utilize communication tools such as Mass Emails and Mass SMSes (alerts, payment reminders, promotions, e-newsletters, etc.) and reporting tools such as Dashboard and Management Reports.
StudentLogic is designed to increase your operational back-end efficiency and give your business a competitive advantage in the industry. READ MORE on StudentLogic Website.
StudentLogic Modules
CRM MODULE
To manage your database of Parents and Students as well as other Corporate Contacts. To also manage Communication with your contacts, manage Mass SMSes, Mass Emails and define SMS & Email notifications.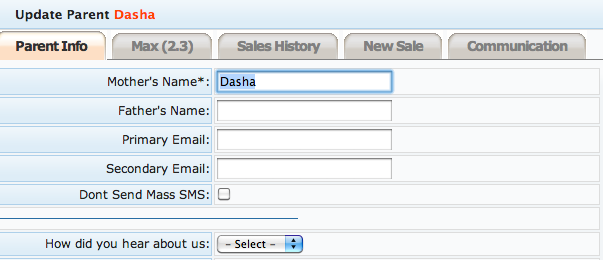 SALES MODULE
To manage all daily sales transactions including sales of membership, packages, merchandize or services. To generate receipts and invoices.

PRODUCTS MODULE
To define all products and services offered with basic definition and pricing to be used during sales process.
ATTENDANCE MODULE
To generate and manage attendance of classes, arrange make up classes, re-schedule classes as necessary, generate attendance sheets or record renewals.

MINI ACCOUNTING MODULE
To close cash daily and generate Closed Cash Report. To record payments received from clients. To generate reports for external Accounting System or possible to integrate with NextLogic AccountsLogic System.

REPORTS MODULE
To generate Sales, Attendance and other reports available.

OTHER FEATURES
• Admin Module
• Users Management
• Help Module
OPTIONAL MODULES
• Fully Integrated NextLogic AccountsLogic System
• Evaluation Module - to keep track of teachers' evauations of students progress

STUDENTLOGIC SYSTEM BENEFITS
• Real-Time Sales, Registrations and Attendance Bookings
• Improved Resources Utilization
• Improved Security
• Better Analysis and Planning Capabilities
• Flexible Reporting
• Improved Information Accuracy
• Increased Information Delivery to Clients